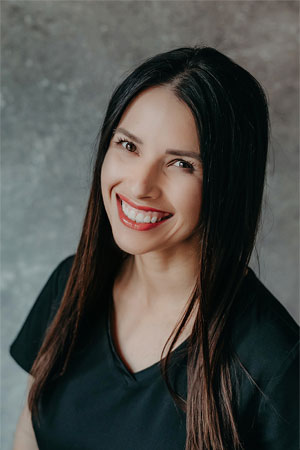 Dr. Mary Shields
Dr. Shields is originally from Daytona Beach, Florida, known best for NASCAR, spring break and bike week. She completed her undergraduate degree at Stetson University. Her studies focused on biology, Spanish and art and she was a scholarship athlete (cheerleading). As an only child, it was difficult for her to leave home after college, but she felt like she needed to follow her passion and attend one of the best dental schools in the country. Louisville has been a great place to call "home" since 2004.
Dr. Shields has wanted to be a dentist her entire life and fulfilled that dream by graduating from the University of Louisville. Her career goal became a reality when she opened the doors of Triple Crown Dentistry in May of 2012. She is most passionate about patient care and the trust she has earned with her patient family. Clinically, she focuses on cosmetic and family dentistry. Her strengths include working with children and those patients that lack confidence in the appearance of their smile. In addition to her traditional training in dentistry, Dr. Shields is pursuing a board certification in forensic dentistry, which allows her to help reunite loved ones that have passed away and are not identifiable by traditional means. Feel free to ask her more about this aspect of dentistry. She expects to become board-certified in February 2021, becoming one of less than 100 board-certified forensic odontologists in the world.
Dr. Shields loves the opportunity to work alongside her husband, Dr. Eric Nunnally, on a daily basis. She admires and respects his areas of expertise including dental surgery, placement of implants, advanced bone grafting techniques, and full mouth reconstruction. Patients find that having both dentists at the practice lend itself to a comfort to patients knowing that most procedures can be handled at Triple Crown Dentistry, rather than having to be referred out to another office.