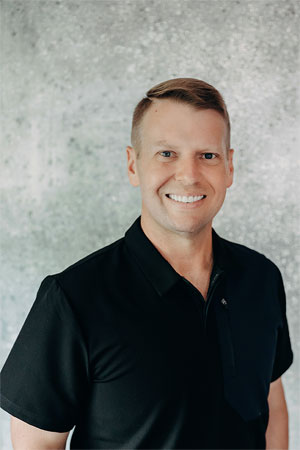 Dr. Eric Nunnally
Dr. Eric Nunnally is a Louisville native. In 1999, he received his degree in Dental Laboratory Technology from BCTC, and then went on to earn his bachelor's degree in 2003 from the University of Kentucky. Dr. Eric Nunnally worked in the dental lab field for years and received his CDT (certification in dental technology) and TE (international technologist certification). After 15 years of working in the laboratory field, he decided to return to school to pursue his love of patient care. He graduated with his doctorate in dental medicine from the University of Louisville.
Dr. Eric Nunnally has a unique skillset, having worked for many years in the laboratory field, before becoming a dentist. He is dedicated to serving his patients with a high level of knowledge about dental prosthetics. He has been published in dental publications dozens of times and serves as a liaison between the dental and dental laboratory industries.
Dr. Eric has a true passion for dental implants and has received extensive training in the placement and restoring of dental implants. He dedicates himself to providing the top level of implant services from diagnostics to surgery and final prosthetics. He is a fellow of the Midwest Implant Institute and has been invited to train dentists in dental implants internationally. He dedicates a large amount of time every year to education and training to ensure he continues to perform dental implant work at the highest level and uses the absolute best of techniques and equipment.
In his spare time Dr. Eric loves to play golf, cycle, and is a huge fan of UofL sports. Dr. Mary Kathryn and Dr. Eric have been married since 2009 and have two beautiful children, Stone and Scarlett. They are a very active family and love to go on trail walks, traveling, and going to the movies with the kids.